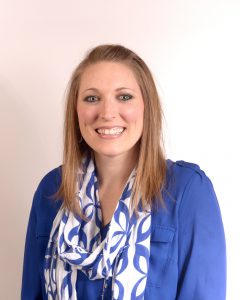 Erin Zickrick- Patient Treatment Coordinator
Erin grew up in Colorado and graduated from Colorado State University with a degree in Human Development and Family Studies and a certificate in Gerontology. She and her husband, Tim, moved to North Carolina from northern Colorado in June 2015 with their dog, Maia. Prior to Peak City Family Dentistry, Erin had 3 1/2 years of dental experience and loves the dental field! She enjoys getting to work with all ages and help patients understand their dental insurance.
Erin and her husband have been married since September 2009.  They have a daughter, Amelia and a new son, Oliver They are enjoying their new life in North Carolina.
Theresa Brighter- Patient Relations
Theresa is so happy to be joining Peak City Family Dentistry. She has been working in the dental administrative field for 11 years now and loves it. Her favorite part is interacting with the patients and helping with all of their needs.
Theresa has lived in North Carolina for 34 years since the military transferred her and her family here and made it their home when her husband retired.
They have three beautiful daughters, two wonderful sons-in-law and best of all, three grandchildren!
Theresa can't wait to meet each and every one of you!
Melany Medina-Dental Hygienist
Melany is from Jacksonville, NC and attended Coastal Carolina Community College for both the dental assisting and dental hygiene programs. She worked as a dental assistant for five years before returning to school to pursue dental hygiene. She has been working in the Triangle as a dental hygienist since 2015. She got married in 2019 and her and her husband bought a house in September 2020. Her passion is healthy gums and she would love to help you achieve a healthy smile for life. In Melany's spare time, she enjoys spending time with her family and cooking. She looks forward to meeting you!
Amy Terrents- Dental Hygienist
Amy Terrents is a Registered Dental Hygienist. She has been practicing dental hygiene for 15 years and has been working in the field of dentistry for 17 years. Amy received her BS in Dental Hygiene from UNC-CH in 2002, after graduating with a Bachelors degree in Psychology from East Carolina University in 1998. While in school, Amy was voted and served as Student Liaison for UNC Dental School faculty and staff. She was also the recipient of the Student Total Achievement Award for excellence in patient care. Amy also received an award from UNC-CH School of Dentistry for a project presented on positively increasing patient compliance. Amy truly enjoys being a dental hygienist and prides herself on being gentle and thorough. She loves to bring a bright smile to all patients' faces!
When not fighting for healthy gums for all, Amy loves spending time with her husband and two children. She enjoys running, helping others, the beach, and good coffee. She can also be seen having fun at her husband's soccer games, son's lacrosse, and daughter's dance.
Heather Faircloth-Dental Hygienist
Heather Faircloth can usually be found smiling. Smiling's her favorite! She is passionate about helping others to love smiling as well. She resides in Sampson County and graduated from Fayetteville Technical Community College with an Associates in Applied Science in Dental Hygiene in 1999. Her husband of 20 years, Dr. Ron Faircloth, is a private practice optometrist and serves as a Trustee for the North Carolina State Optometric Society. In their spare time, they enjoy boating, serving as musicians at their church, and being present for their son's various activities. They are the proud parents of two boys, Cullen and Miles. Heather has worked part-time since becoming a mother and loves spending time with her family and three dogs. She is a breast cancer survivor and is an advocate for breast cancer awareness and staying physically active. She swears staying active during her treatments helped her tremendously! She loves running, yoga, coffee and a good book.
Shannon Felicio- Certified Dental Assistant 
Shannon has lived in North Carolina for over 30 years now and considers this to be home. She graduated from Fayetteville Technical Community College in 2003 with a degree in dental assisting. Shannon married her husband, Robbie, in 2005 and they have been blessed with three amazing children. Her favorite thing about working in the dental field is being able to help give someone their smile back. During her free time, Shannon enjoys spending time with her family, boating, and being involved with her church.
Katherine Hackney- Dental Assistant II
Katherine was born and raised in North Carolina. She graduated from Alamance Community College with a degree in Dental Assisting. Katherine is married to her husband, Jerry. They have three children, Travis, Owen, and Jacy and one grandson, Andrew. Katherine and Jerry have a small farm in Chatham County where they raise chickens and goats. Katherine loves horses and owns a Mustang named Sally. While she enjoys farm life, Katherine has a deep love of dogs and has recently returned to participating in dog shows and training. Her favorite breeds are German Shepherds, Miniature American Shepherds, and Golden Retrievers. Katherine enjoys yoga and spending time at the beach.